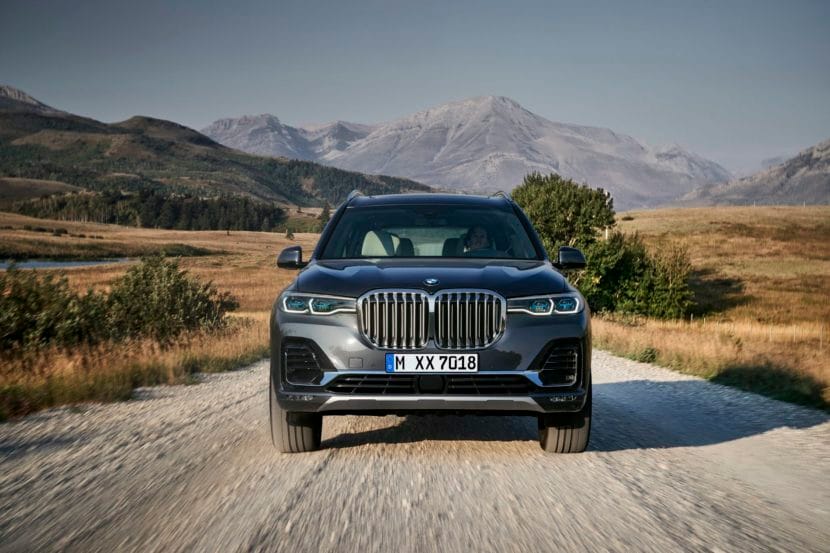 As the luxury SUV market continues to get more crowded, BMW aims to cement its position as the premium luxury automaker with the latest BMW X7. Officially unveiled this year, the BMW X7 is the largest BMW SUV to date, offering three rows for the first time ever for the Bavarian automaker. The new BMW X7 aims to steal market share from the Cadillac Escalade, Lincoln Navigator, INFINITI QX80, and any other three-seater SUV that can offer similar luxury features in this truly gargantuan ride.
Size is the most notable feature of the BMW X7, measuring a whopping 16.9 feet long, able to accommodate seven passengers and boasting a cargo space of 74.9 cubic feet. Perhaps what makes the persona of the BMW X7 so large is the daunting BMW signature kidney grill, adding to the widened stance and tall look of the X7. Being a flagship model, the BMW X7 encompasses a true virtue of attention to detail, with features such as a power liftgate, controls set to automatically lower the third row and push forward the second for maximum cargo space, and USB charging ports at every passenger row. Speaking of passenger seating, the second row comes with a Captain's chair option, for maximum comfort and increased cabin space. Third row doesn't lack features however, with its own set of climate controls and an additional moonroof behind the large panoramic moonroof that covers the first two rows.
A majority of the technology and luxury features will be borrowed from the BMW 7-series, the model that sets the current standard for BMW's most luxurious vehicle. The interior is stated to come with two 12-inch touchscreens, a renovated center console, and advanced gesture controls for hands free functionality of media. Power will be fueled by options between a 3.0L twin-turbo inline 6 cylinder and a 4.4L twin-turbo V8, with a standard 8-speed automatic transferring power to the ground through all four wheels.
Expect to see the new BMW X7 in dealerships as soon as March 2019.