BMW 3 SERIES | REVOLUTIONARY ICON
A revolution was sparked in 1975, with the release of the BMW 3 Series. Lasting through time, it remains the benchmark of the segment it invented over 40 years ago. Being able to constantly evolve in handling and style makes it the most popular series in the lineup. Whether it is any three of the models, Sedan, Sports Wagon, or Gran Turismo they all guarantee maximum thrills.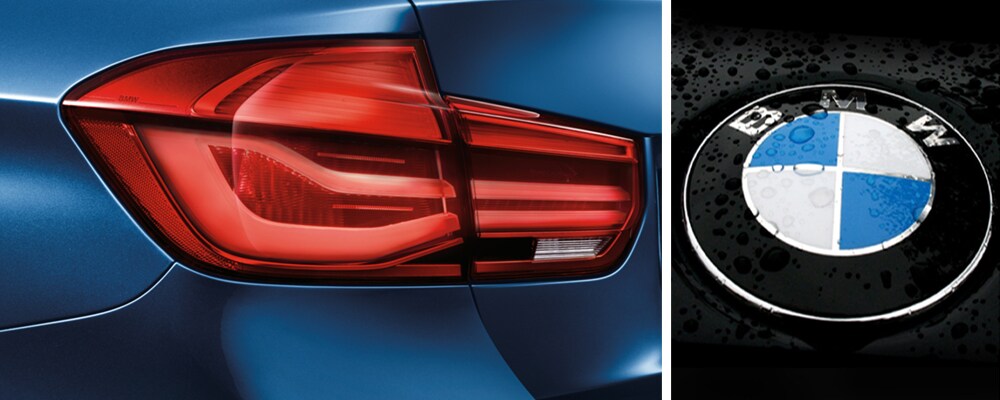 Legendary Design | A Classic Pushing Limits
The embodiment of sporty sedan is none other than the BMW 3 Series. Impressively combining everyday practicality with unrivaled agility and dynamic design. It has optimum weight distribution carrying high-efficiency engines that deliver power in classic rear wheel drive. Engine technology guaranteeing magnificent dynamics and low fuel consumption with BMW EfficientDynamics. Ensuring that optimum traction is available at all times is achieved through the intelligent BMW xDrive all-wheel-drive system. Satisfy your personal needs and wants with the available Sport Line, Luxury Line, or M Sport package options for the BMW 3 Series Sedan. 

Equipped with special features like the contactless opening of the tailgate, makes loading luggage or bags after a shopping spree that much easier. A quick wave of the foot under the rear bumper activates the the tailgate to open, via sensor, to plenty of luggage space for your everyday needs.. A smart system that is only activated when it senses the presence of an authorized car key.

The BMW 3 Series provides more storage than just in the trunk. It's innovative storage concept accommodates your everyday day items. The center console provides two drink holders that can be closed with a roller cover, and converted to additional storage when closed. Comfortably seat three passengers in the rear seats or two passengers to allow the middle seat to be folded down for various needs.
BMW Technology | BMW 3 SERIES PERFORMANCE ST. LOUIS
BMW Technology | BMW 3 Series Performance St. Louis  Helping you keep your eyes on the road, the BMW 3 Series is equipped with Head-Up Display and other innovations, optimizing safety.  Intuitively control the functions you care most about with the impressive iDrive. An exciting and agile driving is experienced with BMW iPerformance, combining supreme performance and efficiency on every commute. A line up of BMW TwinPower Turbo 4 and 6 cylinder engines are obtainable, depending on your preference of speed and performance. All engines have the latest injection technology as well as variable valve control performance with the most recent generation of turbochargers. Offering impressive strength, and stunning low fuel consumption and emissions.

The BMW 3 Series has a drive train to delight every driver, find yours here at Plaza BMW where you will find one of the best line up of BMW's for sale in St. Louis.
Sorry, no items matching your request were found.
Reset Search